T shirt Design Software
We brings the ideal T-shirt design software solution for your customers to design customized t-shirts, the Magento 2 Product Designer Extension by SetuBridge is a t-shirt design tool loaded with features that provide your customers with a great customization experience. This Custom t shirt design Magento extension is a design studio where your customer is the tshirt designer and they can get instant designs ready for print.
Our HTML 5 T-shirt Design tool comes with an extremely easy to use interface as well as tools that simplify the design procedure. The open-source technology (Angular + HTML5) platform used to develop this t-shirt designer ensures that the user experiences no lag or other unpleasant experience while using it.
Other features in this Magento 2 Web to Print solution include options to download images in .SVG and .PNG formats, the choice to print designs on either side of the t shirt, and lastly design previews, making it the best tshirt designing software (in 2021) for website and eCommerce store. The configuration of the custom product design is the primary feature of this product.
Why Our T shirt Design Software Solution?
Our feature rich t shirt designing software allows users to personalize choosen product with text,clipart or images.
Interactive T-shirt Designer software
Upload Images with JPE, JPEG & PNG format
Change your product colours from the selection list
Side-by-side product design
Easy & interactive User interface
Object placement and orientation tools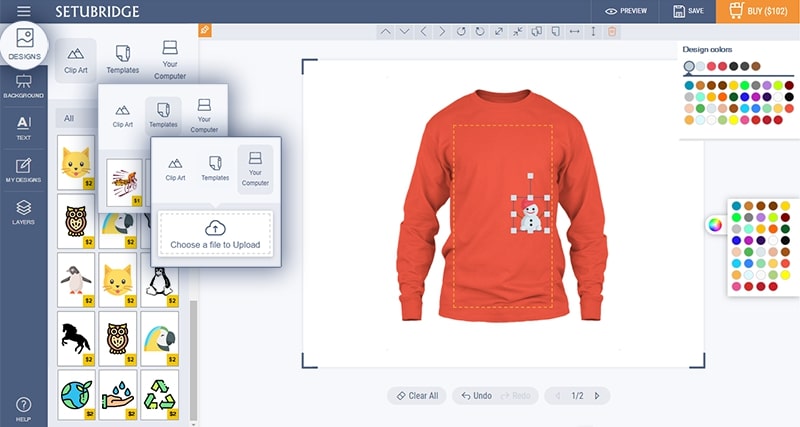 Rich Designing Tools
Design your t shirt with clipart, patterns & background options
Cliparts: Explore cliparts from various category & clipart colour change feature
Patterns: add various background patterns
Background: Decorate background with multiple colours
Background & patterns
Admin can define various background colours by adding in the back-end
Offer pattern for effective design
Text Features
Expensive text editor with all pinpoint tools
Outline and shadow effect
Ready to add the "Quotes" section
Save Design
Save your created design in "My account" section
Login-signup option on designing software
Preview your all side of designs at single pop-up
Layers & Sticky tools
Layer Option: Show-Hide, Up-Down, Delete
Undo-Redo your previous steps by sticky tools
Responsive makes us stand out
Industries

We Serve

Here,We make almost every genre of applications.You name it and we build it.
Frequently Asked Questions
Q1 : Do you offer customization for this extension?
A : Yes, we offer customization services with affordable costs to customize our t-shirt designing software solution as needed to make it a perfect fit for your business.
Q2 : How do I get a free full demo for this tshirt design software?
A : To get the full demo(Front-end & Back-end) of this t-shirt design tool extension Click on "Request For Demo" or go-ahead for the buying process. Don't worry, we have also refund policy for this online t-shirt designer extension.
Q3 : Are your solutions compatible with mobile devices?
A : Yes. All of our solutions are fully mobile responsive.
Q4 : Will I get free updates?
A : For sure. Once you buy any our custom t-shirt designing extension, you'll get 1 year free updates for the module. You'll also have 6 months of free support.
Q5 : Will this extension works with my current Magento theme?
A : Yes, This designing studio extension work with any theme, including the default Magento theme.
Q6 : Does it compatible with other Magento 2 extensions?
A : Yes it works, as well as we are working hard to add support of all major extensions. If you are looking for anything not right then feel free to contact us at support@setubridge.com
Q7 : Where can I find documentation for back-end and user guides?
A : Click here to get extension's documentation.
Q8 : Which are the Magento version will supported this extension?
A : This designing extension is compatible with Magento Community Edition: 2.1.x, 2.2.x, 2.3.x | Magento Enterprise Edition: 2.1.x, 2.2.x, 2.3.x